https://openpolicy.blog.gov.uk/about/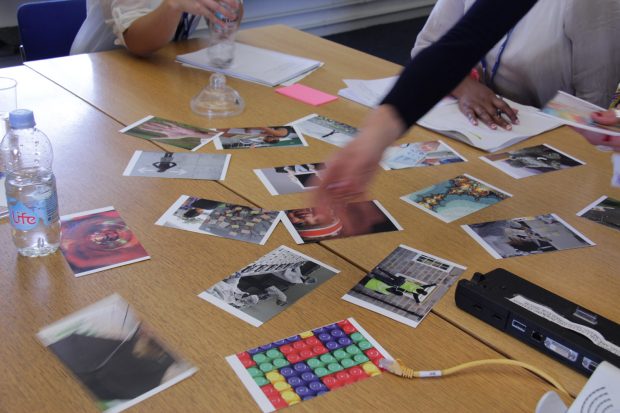 Policy Lab brings people-centred design approaches to policy-making. We provide policy teams with practical support to better understand the people they are trying to reach, and work with them to co-design new solutions.
We were set up in 2014 as part of the Civil Service Reform plan to make policy making more open. We work in support of the vision for A Modern Civil Service. We're a small team - currently of 16 - a mix of designers, researchers and policy-makers. But we also work with a wide network of experts who we bring in on different projects.
We use design, data and digital tools and act as a testing ground for policy innovation across government. Our support is best suited to tackling intractable, complex, systemic policy problems that require fresh thinking and can lead to potentially transformative solutions. We sit in the Cabinet Office but serve the whole of government, primarily responding to requests from policy teams.
We don't have a physical Lab and we don't wear white coats. But our co-design approach and the suite of tools and techniques we've developed over time help create a neutral space where ideas can flourish. This space allows for collaboration across departments, with external experts and with the public.
We work at three levels:
delivering new policy solutions through inspiring practical projects

building the skills and knowledge of the policy profession and wider civil service

inspiring new thinking through our writing and experiments
So far, we've worked on over 20 large projects across a range of policy areas including policing, housing, health & work and childcare. Over 5,500 civil servants have taken part in those projects, lab lights, sprints and training sessions. Many more from in and outside government follow us on Twitter, read this blog and use our open policy making toolkit.
Lab projects
The Lab's approach is agile, flexible and iterative. Each project is bespoke, but is fundamentally about understanding people better and designing with and for them.
When we are approached about a project we usually suggest a short 'Lab Light' workshop with the policy team. This gives you the opportunity to find out a bit more about us, and us to get to know your team and the policy challenge.
We use policy sprints - a more intensive, collaborative workshop over one to three days - both to kick off larger projects, and as a stand-alone process. Our open ideas days, like Northern Futures and Export Jams, bring together diverse groups of people to rapidly generate new ideas and create energy and shared commitment.
Larger projects, like homelessness, can run from three months to a year and involve working intensively with service designers, ethnographers, data scientists and subject specialists. We broadly follow the double diamond process: define, discover, develop, deliver. The discovery stage typically involves some form of ethnographic insight, captured in film or on paper; often combined with data science. In the development stage we work with people affected to prototype and test new solutions. We then offer support to departments in taking these ideas to scale (the delivery bit).  
We also run experiments, designed to develop a number of policy "firsts" for government - such as using speculative design techniques to help us think about the future of ageing and what rail travel might look like in 2035.
Get in touch
If you are interested in working with Policy Lab email team@policylab.gov.uk.