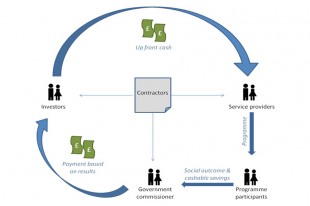 The Department for Work and Pensions wanted to use the skills and knowledge of voluntary and community groups to reduce youth unemployment.
The problem they faced was using traditional funding models encouraged payment for work done rather than innovative thinking or achieving results.
They worked with Cabinet Office to design a Social Impact Bond (SIB) for prevention and early intervention work with young people not in education, employment or training. The SIBs find an investor to provide upfront costs: departments define the outcomes they want and how much they think they are worth, and pay investors back only when they are happy the outcomes have been achieved. It's up to delivery organisations to compete for the work if they think their methods would succeed.
A small team with policy, commissioning and analytical skills set clear outcomes for the SIB, working with external experts and departments and consulting with organisations in the anticipated provider market. They ran an information campaign and events so providers could understand SIBs and talk to investors.
18 months after starting, 10 SIBs were in place, helping 6,000 young people with £10 million of funding from over 30 investors including local businesses and private individuals.