The MoJ's Policy Excellence Group (PEG) is developing a Policy Hub.
The first main session was held on June 20th; four weeks on and we've been looking at whether the outcomes from the Hub benefited the policy area involved.
"The Policy Hub proved to be a really interesting and helpful session, it was great that everyone engaged enthusiastically with the 'policy problem' and the session brought out some genuinely new ideas. We're already working with people across the MoJ policy network and the Cabinet Office Policy team to develop the ideas further; the Hub was a worthwhile few hours indeed. Good luck to colleagues in Youth Justice Policy who have secured the next Hub session early in August."
Kate Shiner, Policy Manager Family Justice
The Hub is designed as a space to aid policy innovation, challenge ideas and engender skill, experience and knowledge sharing across MoJ and other government departments. So far the Hub has brought together specialists from across the MoJ, for example, digital, communications and analytical colleagues, along with external partners from OGDs and academia; the mix of participants has enabled well balanced ideas to be generated quickly.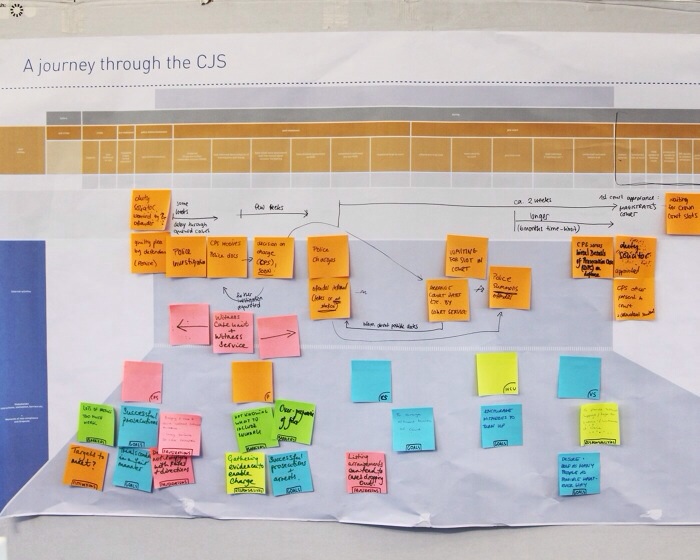 Iterating the Hub
Enhancements to how the Hub works have already been made as lessons have been taken from early trials.
The next iteration of the Hub will include a test of Decision Explorer; software which will help manage the qualitative information which surrounds complex or uncertain situations, such as those considered by the Policy Hub. The tool will help us capture in detail thoughts and ideas, to explore them, and gain new understanding and insight.
In a change to how the Hub will operate we are also introducing a 'download' session in advance of the Hub so the issue at hand can be explained in a brief session to those due to attend so they can begin to consider the matter and make an initial link with other attendees.
The design of the Hub will continue to iterate as new issues are considered, in the forthcoming months this will include issues relating to Youth Justice Policy, Courts and the Property Chamber. If you're interested to learn more contact us by emailing Moj_Policy_Profess@justice.gsi.gov.uk.
Tell us what you think in the comments below, on twitter, or on LinkedIn.
Subscribe to our email notifications of new posts.