Last week the Home Secretary announced that Surrey and Sussex would trial a prototype online crime reporting service which could save around £3.7 million if it is offered nationally on police.uk. This was one of the ideas developed as part of Policy Lab's first demonstration project with the Home Office.
The idea was developed in a user-centred way and has been iterated and improved time and again with users. It emerged out of ethnographic research with victims of crime and police staff and officers which was presented at co-design workshop with around 40 people from all different backgrounds - from service designers to chief constables to neighbourhood watch members. Following the workshop, we teamed us with RCA students to go back to users and develop a paper prototype. Users were given cards with different functions and were asked to build their own online crime reporting service. We refined it a bit more and produced a few more iterations until Surrey and Sussex police were ready to build a prototype. This will be again tested with users and their feedback used to improve it again before it is offered as a national service.
The way the service is being developed reflects Policy Lab's overall approach: user-centred, collaborative and iterative design. A year ago, prototyping was not a word that civil servants would think to use. Piloting was much more common, but misses out on an important earlier stage where an idea can be tested with users and improved. And now the Home Secretary is talking about prototypes in her speech.
This is great news for policymakers and for the public. Prototyping can reduce early design flaws that can be costly, even in small scale pilots. Nesta's guide to prototyping public services gives an example of a local authority which spent £200,000 on a recycling pilot which was a failure because people did not understand the uses for the different coloured bags that were given out. Had they tested the bags with a single street first, they could have found this out and avoided a costly mistake.
Prototyping is also a great way to engage stakeholders and users. Producing something tangible (for example a paper mock-up of a website, a small scale model of a GP waiting room) allows people - including non-experts - to understand the concept much better than a bullet on a powerpoint slide. You don't have to be an expert product designer or artist. But you do need to move away from your computer and start making something.
So this is not the end for our first demonstration project - the online crime reporting service will likely go through many more iterations before you might use it if you are unlikely enough to report a crime. But it does demonstration the way that innovative design techniques like ethnography, co-design and prototyping are being used to develop public services that save money.
Follow Policy Lab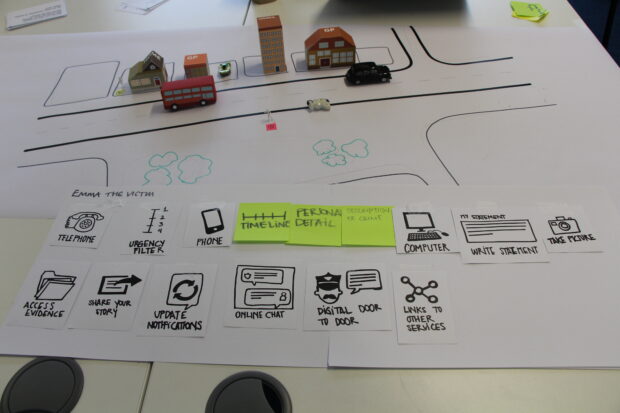 on Twitter.