If you had told me four years ago, when I joined the Cabinet Office, that by 2018 we would have worked across 15 major government departments on over 40 policy projects, working with over 6,000 public servants, I wouldn't have believed you.  For a start, I was on a one-year contract, with just one member of staff, the wonderful Beatrice Andrews who was on loan. I remember vividly our Permanent Secretary warmly welcoming everyone to our first open event, but concluding by saying "if in a year it doesn't work, we will shut it down" - words that would return to me time and time again over the coming months.  That evening he had publicly laid down the gauntlet which would put us both under pressure to deliver impact quickly.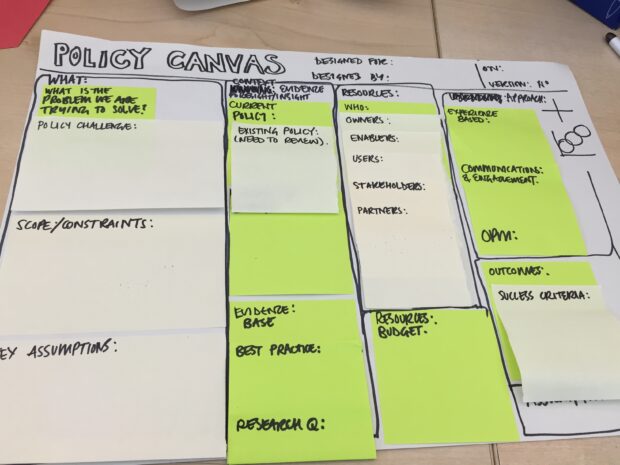 On reflection this short deadline was really important. We didn't idle over endless strategy sessions, we actually held our first project workshop three working days after I accepted the job.  It felt fresh and energising just to be getting on with things, even though we didn't quite know what the job was yet. I asked Christian Bason of MindLab what metrics we might use, he replied "there is only one metric for you that matters, to still exist in a year". Fair point, I thought.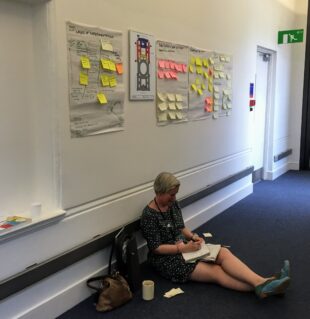 Now this all seems a long time ago. Over four years, we've supported some of the most exciting and intractable policy priorities of both the PM and departments. Policing, exports, homelessness, employment support and the red-tape challenge, to name a few. Our Policy Lab introduction, on SlideShare, has had over 31,000 views. One day I found myself accidentally in the wrong meeting with the Deputy Prime Minister's team, I innocently suggested we run a policy jam to help with the Northern Futures project. I had no idea this chance conversation would lead to eight simultaneous 'open ideas days' around the country and new ideas for the Autumn budget. 
I would never have imagined that I would be invited to give a speech on patient-centred care at the palace of Westminster with the Speaker, John Bercow and NHS Chief Executive Simon Stevens. Or that I would facilitate a cross government Anti-Corruption strategy workshop. These things just weren't in the plan.
Today the Lab is a team of ten, including ethnographers, researchers, designers and senior policy-makers.  I am super proud that the team have won or been finalists in awards in every year, including awards for collaboration, impact, innovation, leadership and the most 'inspiring individual'.  I wouldn't have dared think that the team would have one of the highest engagement scores in government, with 100% score for 'my team' and 96% on 'diversity and inclusion'. And that we have done all this by applying open-policy-making principles of humility, curiosity and openness - our work was once described by a department policy lead as 'quietly revolutionary'.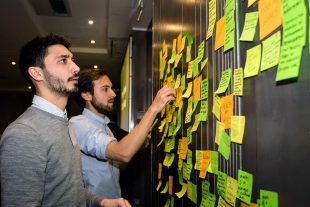 We still retain our own thinking time at work, with allocated research and development time for each individual if they wish to pursue new ideas or improvements. Many of the Policy Lab team are doing external masters and courses.  For me this has been time to attend the LSE's Executive Masters in Public Policy, Cambridge Science and Policy Fellowship and Ashridge Executive Education courses. These are not distractions but fundamental parts of our team being at the cutting-edge of our various fields.  For my part, I never expected to receive an honorary doctorate in Civil Law and to sign my name under Jeremy Paxman in their honours book, or to become the 10th female in its history to be awarded the prestigious Royal Society of Arts Bicentenary Medal. Clearly these were not listed in our project KPIs.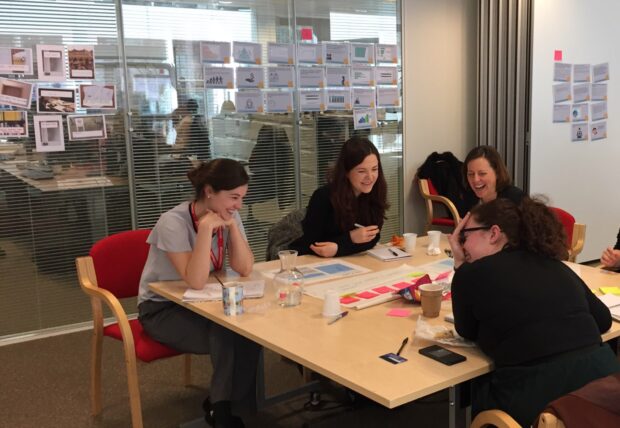 Back in 2014, I wouldn't have dreamt we would do all this. It's happened in part because have been both responsive and strategic in seeking out new challenges and seizing opportunities. But more than that, it has been possible because of the open-minded talented colleagues, co-conspirators, cross-Whitehall champions and departmental commissioners.  Over the last four years I have begun to understand more deeply how the Civil Service works, and today I am really proud to work in such a vibrant, inspirational organisation that is the Brilliant Civil Service.