With one in ten of 15 to 24 year olds in the UK infected with Chlamydia, NHS Birmingham East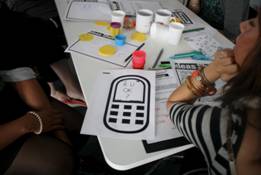 and North wanted to find a more innovative approach to increase awareness and rates of testing amongst local young people.
The team worked with Uscreates to help to gather insights on why previous approaches had not been successful, and to design services that would meet the need of young people. Working in collaboration with, rather than on behalf of, young people was key to the success of the project. This included workshops, primary research involving young people recording elements of their everyday life with photographs ad videos, and journey mapping.
This research informed the proposed solutions, which were also designed in collaboration with young people who volunteered to be ambassadors for implementing the team's strategy. Alongside traditional communication campaigns, these ambassadors participated in a wide range of activities – from building and promoting a social media hub of over 6000 members to hosting a cinema night to incentivise testing that led to a 100% testing rate.
Read the full story of working with young people to improve chlamydia testing rates. Or read more via Uscreates' website. Or contact Mary Cook, co-founder and Managing Director of Uscreates directly, at mary@uscreates.com.