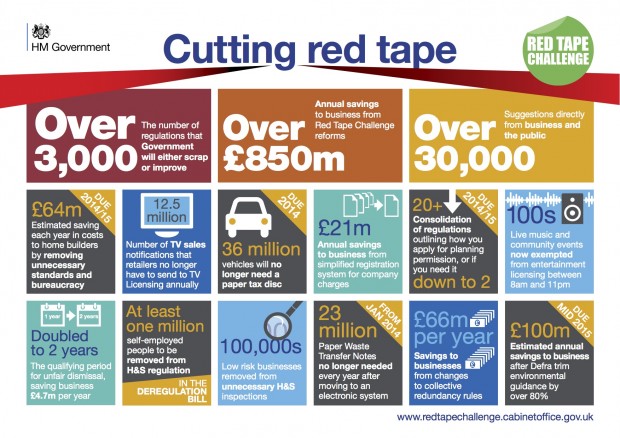 Deregulation is central to economic growth. The Prime Minister launched the Red Tape Challenge (RTC) in April 2011 to cut the amount of regulation by the end of this parliament.
Led by the Cabinet Office and the Department of Business, Innovation & Skills, RTC aims to scrap or reform 3,000 regulations.
The team used crowdsourcing to gather the experiences of people affected by regulation. They also ran challenge sessions with them.
The team grouped regulations into themes, and published them online in a rolling programme. Each theme had a 5 week spotlight period for open comment by the public. In the end they received 30,000 frank and open comments and 1,500 emails.
Although the issues were often known to policy teams, this open approach showed how they affected the public.
In parallel, the RTC team encouraged departments to set up panels and policy champions to cut down on red tape. Star chambers with ministers also examined regulations and made improvements. For example, simplifying the language or providing further guidance.
This process is saving businesses an estimated £850m per year.
Read more about using digital to get more people involved.