One of our top priorities for this year is to build an open policy making toolkit. When our programme started, people wanted to know 'what is open policy making?' Now, the question is more often 'how do I do it?'
The toolkit is going to start answering this question: a website full of tools, resources and guidance on how to use OPM techniques and approaches.
With this project, we're staying close to our digital and agile roots. We're following the GDS service design process and the toolkit will be iterative and maintained, added to and improved from when it first goes out for testing throughout its life. We're currently in the discovery phase – this means we're thinking hard about policy makers and 'what is the user need?' When we know what people need from an open policy toolkit, what information they want, how they want it presented to them, and how they want to navigate to it, only then are we ready to start creating it.
To help us figure out the user need we're working with Mint Digital. Because they're from outside, Mint can take a clear look at the problem and come up with a solution that doesn't have preconceptions about policy environments and what policy professionals need.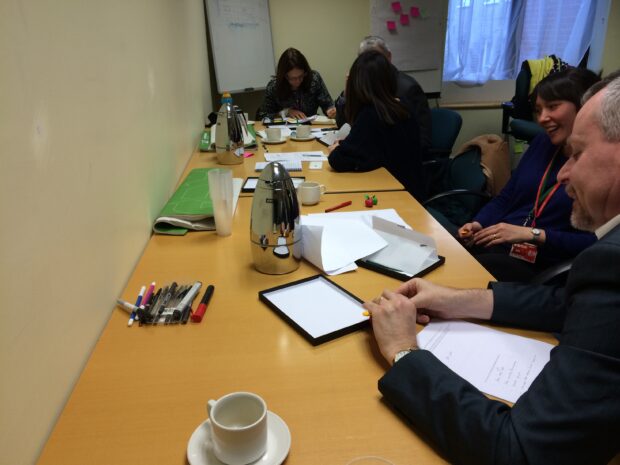 Getting people involved
The key part of this work so far has been the user research session we ran last Wednesday. After seeing the interesting things our Lab colleagues do in this area we were very excited to get the post-its and markers out ourselves and dig in to this kind of session. We brought together a number of departments (plus Josephine from Sciencewise who's been working with Cat, to bring in an insider/outsider perspective - see her blog about the workshop here). We picked the people carefully to ensure a range of attitudes to and experience of open policy making: with 19,000 policy makers in the civil service, we can't make a toolkit that only works for the early adopters and enthusiasts!
The day covered several exercises. Mint started us off with a conversation about the daily lives of the people in the room, helping them to get a sense of the wide range of activities and responsibilities of policy makers in different departments. We want the toolkit to fit usefully into the working day of policy makers so it was important to look at where the spaces are where that could happen. Then Mint asked about the tools people already use – from the traditional (pencil) to the innovative (crowdsourcing platforms like Dialogue App) – and what they would like to use.
Then we moved on to the fun bit: out came the modelling materials and we asked the policy makers to create the tool that would most make their lives easier. While we noticed one or two raised eyebrows, everyone got stuck in and soon we had an array of works of art representing policy makers' dearest wishes, from a catcher of fears about taking risks and trying new things, to a glorious gateway for new policies to go through.


Tell me what you want, what you really really want
The afternoon was for a discussion of these ideal tools, exploring the values, ideas and needs that lay behind them. What do policy makers really want and what would help them the most? We found that policy makers are really outcomes-focused: they want tools and methods that let produce the best possible policies for their ministers, policies that deliver ministerial objectives on the ground, with citizens and for citizens' real lives. They want these tools to be easily accessible so they can understand when and how to use them and how to explain the benefits of them and why they chose them - and why those methods are going to deliver the results their ministers want.
From there we looked at several design concepts Mint have already come up with: ideas for how the toolkit might be structured and navigated. The focus of this discussion was on the toolkit itself and what would help it to be picked up and used by departments and policy makers.
It was a very useful day - and, we hope, interesting for the participants, whose time and energy were much appreciated! Next we're focusing on completing discovery: Mint will prepare a report on what they've found out about the user needs and what we might want to build to fulfill them. tbc...
Subscribe to our email notifications of new posts to keep up with progress of the toolkit and follow us on Twitter.