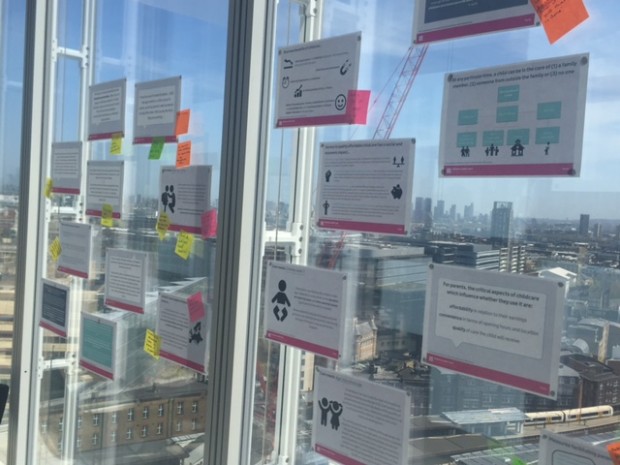 Platforms through partnerships
I've been thinking recently about what we can learn from Government Digital Service's organising principle of 'Government as a Platform'.  This is the idea of shared digital systems or an open platform, first coined by Tim O'Reilly in 2010, that allows people inside and outside government to collaborate or deliver service transactions in new ways. We talk a lot about how new technologies can help us transform services. But we forget that Government as a Platform isn't just for the digital services and infrastructure - it's a new way of interacting with society.
In the Business Partnerships Team at the Cabinet Office, we often work to enhance the social benefit of companies. Take our recent work on building business partnerships to support the Government's announcement of 30 hours childcare for working parents with a range of multinational and national companies. The project has helped me think more about how partnerships with businesses can help stimulate markets and drive innovation. Providing a platform for employers of different sizes to build their own services and offers and flex these as needs change.
The policy issue
Childcare can be a challenge for UK parents. According to the PWC Women in Work Index, on average, people spend 27% of income on childcare in the UK - way above places like Sweden, Norway and Denmark. It's an issue for both businesses and Government. The index cites that countries that lead the way in achieving the EU's 2020 employment rate targets did so by a creating conditions through cultural changes and family friendly policies. Helping more people into work also improves family incomes and life chances - a priority for the Prime Minister, as set out in his recent Life Chances speech.
And evidence suggests employers supporting childcare and flexible working boosts productivity and of course diversity in leadership.
Our approach
First, we ran over 40 events with employers to speak to parents about the implementation of the 30 hours childcare policy. Speaking to parents at a range of employers enabled us to take in a broad range of ideas, which was critical for us in understanding the diverse mix of challenges faced by parents and employers as well as identifying the more common service standards that employers need across the UK to build on, enhance and tailor childcare solutions. My first blog on open policy and parenting highlights the value of working with employers as an effective route to speaking  with  parents directly.
We originally conceived the next stage of the project as an engagement and dialogue with employers themselves. In fact, it became something more. By bringing key elements of the childcare system together in the same room and working through a deliberative process from the perspective of business needs and parent needs, we went beyond a consultative exercise to generating solutions and framing commitments. Working in partnership with Policy Lab on an open ideas day with businesses, we were able to identify solutions about parenting that suit employers and their workforce - ideas like
a programme connecting employers with childcare providers to share business expertise and help providers increase efficiency;

local business groups supporting wrap-around care such as after-school clubs in local schools;

an app to support sharing of informal childcare amongst staff;

and business sponsorship of wrap-around educational activities specific to their industry, such as a coding or engineering club.
What does this mean?
The commitment to Government as a Platform has focused service designers on user- research and common standards to provide a consistent infrastructure on which digital  services can be built, tested and developed.
The example of developing business partnerships around the Government's childcare commitments has shown how the principles of digital service transformation can frame how we use the core standards of a national policy as a platform on which to experiment, test and grow flexible solutions that work for parents and employers.
What do you think? And how else can lessons from digital service design be applied to creating broader societal solutions?   
If you would to explore some of the techniques we used during this project, you can find them in the Open Policy Making Toolkit.
Rebecca Price
Head of Sectors, Business Partnerships Team