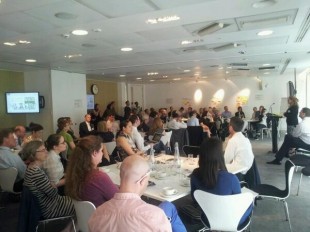 What we need to do is increase anxiety about the status quo. So said Halima Khan, Director of Innovation Lab at Nesta at our Sprint Policy event on Monday. It's not change that should worry us, but staying the same.
The 7 departments who want to be exemplars of open policy making  are certainly trying to change.
Each of them made a pitch to colleagues to attend their mini-workshops, where they talked about their how they are becoming more open. For example, the Department for Transport gave an honest account of how they got the trust of and built a team with the cycling community. The Department of Health talked about their successes and failures in using digital tools to reach new communities and organisations. All the presentations gave plenty of opportunity to learn from each other, and we're still arguing amongst ourselves about which was the best.
Back in the main room, Maria Nyberg, head of the OPM team struck a chord with her explanation of Open Policy Making. Fundamentally, being an open policy-maker is a mindset. There are plenty of great tools, but you can still be an open policy-maker with some pens and a few sticky notes.
The important bit, as both Andrea Siodmok (Policy Lab) and Louise Downe (Government Digital Service) reminded us, is putting yourself in the shoes of those people who are actually affected by your policy.
There were some fascinating new tools and techniques on display. Paul Maltby, Director of Open Data and Government Innovation, predicted that Data Science – the ability to analyse complex, fast-moving, unstructured data sets – would fundamentally change the way that policy makers worked in the next 5 years. And his team wowed the room with some of that data.
Mike Bracken, Executive Director of Digital at GDS, followed with some recommended reading for all aspiring open policy makers, including Government as a Platform. He also reminded us that 'making our platforms beautiful' so the public understand and use them isn't new. To prove the point, he showed us a picture of Sir Joseph Bazalgette's ornate pumping station for London's 19th century sewers.
Olly Robbins, Director General of Civil Service and our chair for the day summed up on a positive note: we are good and getting better at open policy making, but we must strive to be the best. He reminded everyone of the 3 Ds: design, data and digital.
Check out our Storify for more on those 3 Ds, including presentations, tweets and pictures from the day, or read GDS's blog on the event here.
Tell us what you think in the comments below, on twitter, or on LinkedIn.
Subscribe to our email
notifications of new posts.