At last week's Open Policy Making Sprint event, we presented some early work we are doing on data science in government. By this we mean exploring and trialling new techniques and technologies for working with data, in a very practical way, to enhance and improve the way we deliver policy and services.
This is the first in a series and over the coming weeks we will be sharing more information about some of the prototypes we have underway. These range from how predictive modelling can help fire services with their resource and prevention planning, to developing tools and visualisations for areas at risk of flooding. The prototypes test many different ways of analysing, linking, interpreting and presenting data to help inform policy and operational decisions.
When we think about data science, we have started with the definition associated with big data: a 'data first' mindset. We are most interested in exploring the new technologies that this offers us, for collecting and processing multiple large data sources. The diagram below shows how these combine to form our approach.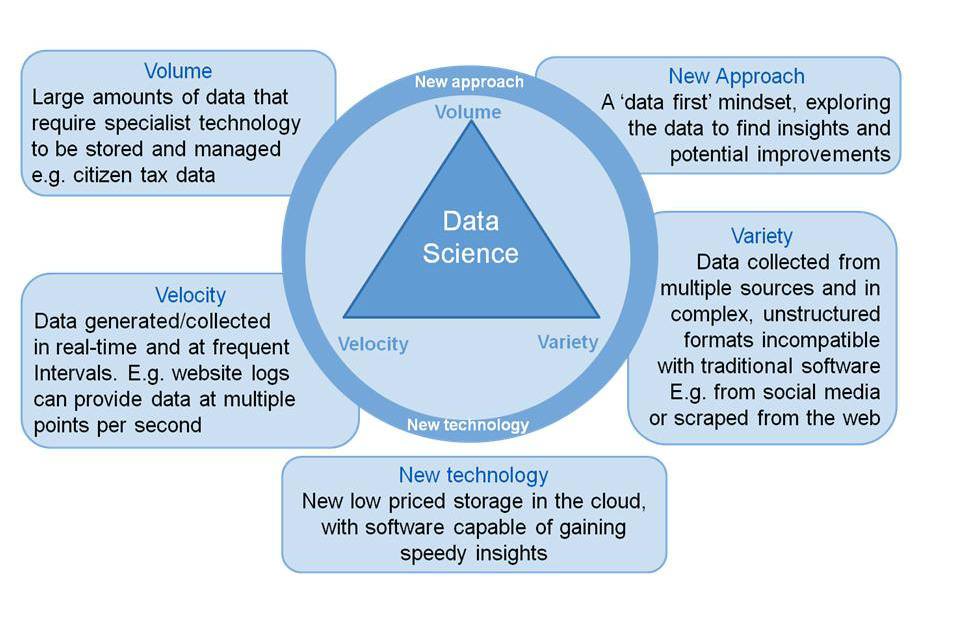 Significant advances in the capability and cost of technology have opened up new opportunities in data analytics. These give us a new way to tackle policy and operational questions to improve the efficiency and effectiveness of our public services.
We want to ensure that we take advantage of the full potential of data science and we think the time is right to explore this now - including the need for improvements in public service productivity, the increasing maturity of the knowledge base in the UK, and the platform provided by the government's new digital services.
Data science doesn't only present technical challenges. As a new area, there are potential questions for us about the ethics of how we use data and how equipped we are in government to do this work, both in terms of our staff and the current technology and data policies we have in place.
As government, we take this responsibility seriously.
That is why up until autumn we are trialling new projects to develop our understanding, before we make any recommendations. We are also working to a set of guiding principles, which we will continue to develop. These are to:
work as transparently as possible, so that others can see and contribute
be clear about the types of data being used in each project
operate in line with departmental guidelines on personal data to minimise any risk of identifying individuals
So what are we doing?
Our programme consists of four interconnected strands:
Trial data science alpha projects: developing new data science projects and sharing lessons from existing work across government with a focus on catalysing activity
Build capability: making sure these skills are available by hiring external talent, while working with the analytical professions on longer term plans to build civil servants' experience and abilities
Unlock practical barriers: dealing with standards, technical and procurement challenges and exploring policy uncertainty, e.g. on managing data sharing
Work in a transparent way: exploring the potential with innovators in and outside government and developing an ethical code
We welcome feedback and discussion. We are also looking for further ideas of prototypes and projects to develop by autumn – let us know if you have some data you would like to explore.
Tell us what you think in the comments below, on twitter, or on LinkedIn.
Subscribe to our email notifications of new posts.