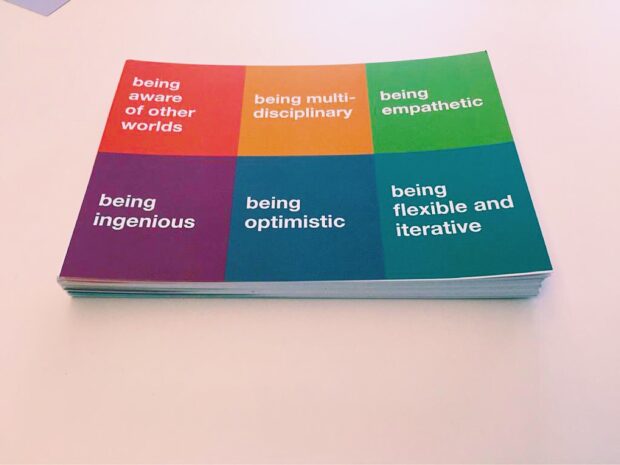 Dr Lucy Kimbell is a Research Fellow embedded in the Policy Lab.  Funded by the Arts and Humanities Research Council, she is publishing the outputs from her research.  She recently posted a blog called 'Abductive Policy Making'.  I suggest reading it before you read this...
I confess to having had no idea what she was talking about when Lucy first mentioned abduction, but I've been thinking about it since, particularly how it applies to the different approaches we take in the civil service to policy development.
I've borrowed her table here: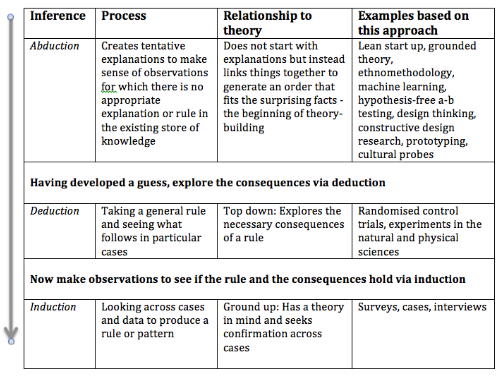 Lucy's theory is that Policy Lab primarily uses an abductive approach to tackle policy problems.  I've been using her framework to consider the frequently asked question "what sort of policy problems should go to the Policy Lab?"
The glib answer is 'all problems', but this isn't really true.  There are many tools and approaches to tackling policy.  The skill is in knowing which ones are going to help the most, and the challenge is to keep abreast of the 'latest thing' which may (or may not) provide the answer you're seeking.
To massively oversimplify:
If you know what works, do that.


Where good evidence exists, use it.  The

What Works centres

might be able to tell you.  Or research that already exists in your Department.  Examples of what's been successful in the past, or elsewhere are great (when handled with care - a different context can result in a different outcome).

If you think you know what works, test it.


The

Behavioural Insights team

have many examples of Randomised Control Trials.   Larger scale prototypes and pilots can be evaluated to see if you've got the answer right

If you really don't know, try Policy Lab
That doesn't mean we don't use evidence. Policy makers who come to Lab have access to vast amounts of quantitative data, they come knowing what's happening, but not why.  Sometimes they'll have had policy hypotheses that proved incorrect.
Policy Lab enables policy colleagues to explore the data, fill the gaps in their knowledge (often by focusing on the user experience) and make sense of what's going on by working with those using and delivering services - for example through ethnographically-informed research.  Insights gathered this way allow tentative explanations to be reached and then rapidly prototyped to see how robust they are.  Very much like the explanation of abduction created by the Pragmatist philosopher CS Peirce cited by Lucy in her post.
This process enables the policy professional to get to the point where they can hypothesise, based on real insight, define a theory of change and possible intervention, and do the a/b testing and/or pilots that are a more traditional part of the policy making arsenal, based in the deduction or induction space.
The how, not the what
This makes sense if you are given a policy problem to solve, but often policy officials are given the solutions too.  Particularly in this part of the Parliamentary cycle, explicit manifesto commitments can drive our work.  
This begins to take us away from Lucy's paradigm, but I think the approach when seeking ways to implement (if not what to implement) is the same.  If the answer isn't to be found in existing evidence, going back to the data, to the users (and deliverers) of services can set us on the path to a delivery mechanism that will work for the people it's intended to reach.
Do you have an 'I really don't know' policy challenge?  Policy Lab can help!  Get in touch by emailing policylab@cabinetoffice.gov.uk