The news that I had never used Uber was met with some wry smiles in the office last week.  How can it be that I lead a Lab whose role it is to develop ground-breaking new policy practice, yet I had never experienced the global car sharing app called Uber.  It seemed to some in the room as a little incongruous, surely of all people I should fit the 'early adopter' box in my willingness to embrace new technology.  And as it turned out, later that week I finally got my chance to try Uber first hand.  With a colleague, who proceeded to enthusiastically talk me through the process. I was in the back seat, both metaphorically and literally, of a new experience.
It reminded me of the daily experience of policy-makers who come to our Lab and try things out for the first time.  One of our former Heads of Policy Profession (HoPPs) described the experience of applying new open policy-making practices as being a bit like 'thinking you were in a library and then waking up and discovering you were in a cocktail bar'.  Disorientating and bereft of the cultural comforts of the way we've always done things here.  It became clear I was equally out of my comfort zone as we hunted down our Uber ride, poised app in hand, with high expectations about what was about to happen. With Uber naturally I was intrigued, yet I was also a bit skeptical of the likelihood of it living up to the hype. Would I adopt this new life enhancing technology-enabled sharing platform, or would I stick with what I know best? Like the HoPP, I probably take comfort in what I am familiar with, but I also don't feel the need always to change for the sake of a change.  And one shortish journey later my initiation to Uber was over and I was left pondering about whether I too would become a convert. Only time will tell if I will look back on that moment with any sense of a paradigm shift. Because of course we all find our own moment to change.  
Being on the backfoot of change made be acutely aware of how our lab is sometimes experienced by others.  It reminded me of the science fiction author William Gibson's oft quoted truism that 'The future is already here — it's just not very evenly distributed'.  For me progress doesn't feel like a clear singular line between now and some utopian future, but more like the old fashioned graphic equaliser. With an array of levers some pushed up and others retracted, balancing out in an individual harmony of sorts - I like to think of it as going at our own pace.
And so it is with new things, it is good that we don't all leap into the future at once. Change requires commitment and can also involve a significant investment in time. I use a PC not an Apple because I know the time needed to learn a different operating system would set me backwards before I would glean any of its benefits. This is also true in Policy Lab, some of our tools and techniques have never been tried before, but most have been proven in one setting or another and promise to help improve policy-making too.  But knowing that a technique will save time and improve policy isn't always enough, we also need to commit the time and effort to change the way we work, more of a cultural than a technological shift.
People say that the Lab is better experienced than explained. Dry descriptions are never going to be as compelling as discovering and trying things out for yourself. Policy-makers who have worked with Lab often describe our approach as a breath of fresh air, as enlightening and creative. But most of all, it can be a way to bring new thinking into policy areas by better connecting with the concerns of citizens (and the state). The cornerstone of our work is ethnography, spending time with people in their context and seeing how things work (or don't) for them in their everyday lives. 
The Lab is a small team, a collective of policy-makers and secondees. And each of us has a strength, or a thing we are exploring or discovering, where the Lab provides fertile ground to develop future practice.  For me it is open policy, engaging a broader range of people in policy questions such as our open ideas days.  For Cat Drew it is currently state of the art thinking in speculative design and the intersection between design and data.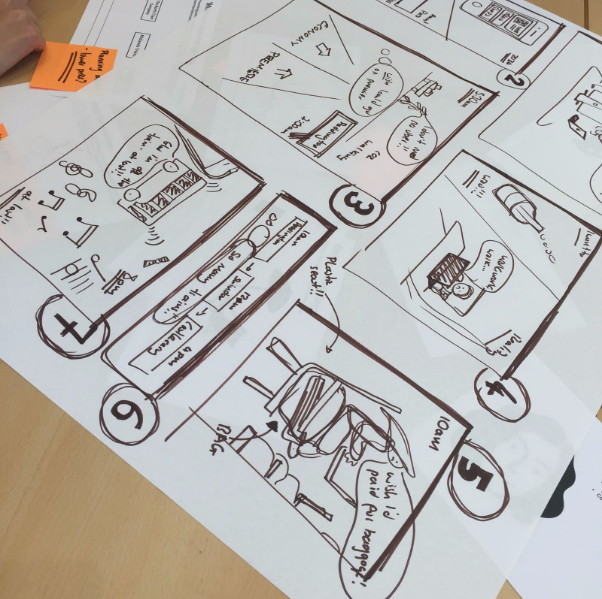 For Kyna Gourley it would be the use of ethnography in early policy-making, and so it goes on.  The Policy Lab invites secondees to bring their own policy interest and to develop it with us.  Our current secondee Helen Smith from Treasury shared her thoughts in a earlier blog. This is also true of policy teams who wish to commission Lab to support them by working together.  The mindset in Policy Lab is  humble, curious and optimistic, accepting we don't have all the answers, yet believing that there can be a better way of doing things.  Our ambition is to be world-class in policy-making, but to do that we need to change and evolve the way we work.  And so we learn every day through our projects – action learning and reflection on practice.  We are also doing monthly show-and-tell sessions on our latest practice within Lab and with others through our Lab Sessions.  
My week ended with a gathering of Global Lab leaders, sharing experiences and knowledge of the latest 'cutting edge' or 'bleeding edge' practice. Once again I was intrigued to hear what the latest state of the art, ground-breaking thinking was - yet also understanding more clearly than ever that the real work of the Policy Lab is in helping others to experience better ways of working first hand.  One of the delegates mentioned 'Slack' and when quizzed about what Slack was, responded by saying 'Slack is a bit like Yammer and Base-camp only different'.  A quick look around the room confirmed that most attendees were none the wiser.  Whilst technology platforms provide the foundations, it is in how we use them that the real shifts in culture create organisational benefits.  As the designer Dieter Rams once said 'different isn't always better, but better is always different'.  Every day we are making choices about what we will change to make things better tomorrow.
And so It turns out I am more of a techno-evangelistic luddite than I had first imagined. I embraced Twitter ten years ago, love open plan offices and flexible working, yet I am also suspicious of blindly adopting new technologies. In reality most people don't have enough time or space to trial and test a fraction of the new technologies on offer.  Hence why we need a Policy Lab. In Lab we are all busy trying out new sometimes radically different ways of working - and only when we can prove their value do we share them with the 17,000 policy-maker community.
It is through this individual and collective spirit of exploration that Policy Lab works, pushing the boundaries of what is possible and trialling next practice.  A continuous process of developing new knowledge and skills that can improve policy-making - building future cultures.
The principles we apply to our work can readily be applied to any policy team. For us it is more of a mindset, of learning by doing, of exploring and experimenting with new ways of doing things. The private sector call this striving to find new innovations research and development (R&D), in Policy Lab we simply call it professionalising policy-making.
Most of our current tools are available on the open-policy-making toolkit. But better still if you are interested in a secondment to Policy Lab, or in doing a practical project contact us on policylab@cabinetoffice.gov.uk