We all want to be better at open policy making. And we've spent a lot of time in Lab working out how to do that - what works in real life, not just in theory. We recognise it's not as simple as just deciding to 'be open'. Policy makers work in complex systems and under sometimes intense pressure. Even with the best intentions, the day-to-day reality of PQs and last-minute briefings can distract.
We've been thinking hard about policy makers' real experience: building empathy to help us design the right tools and support. We're doing this collaboratively with innovation colleagues from across government. And there's international interest too: we recently hosted the OECD's Open Government Team who have just published recommendations of their Council on Open Government.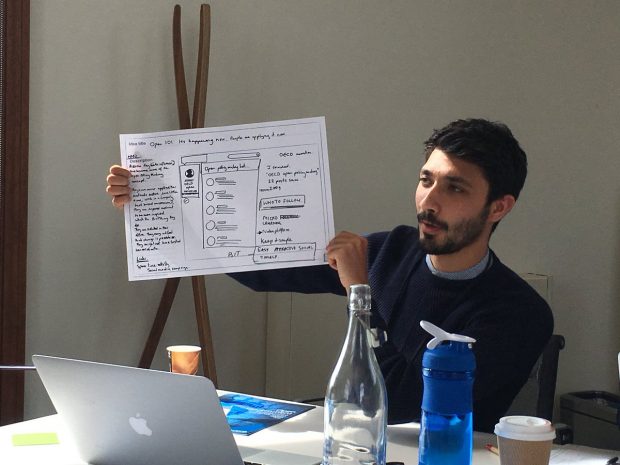 I've always thought of open policy making as being: open to diverse and divergent perspectives; open to the methods you employ to make better policy, and; open to the results from testing. And in many ways, this is what policy makers have always sought to do: we're just trying to give them better tools to do it.
The UK's civil service supports ministers and the government, all of whom are members of parliament. Parliament is made up of people elected from across the UK and provides policy teams with an articulation of citizen need.
Arguably, the whole policy making process is one big co-design. Policy officials spend a lot of time servicing this national co-design, supporting ministers to provide evidence, answer questions and respond to suggestions. Agreement processes ensure decision making is collaborative and results in collective responsibility by ministers.
A critical basis for joint working in the pursuit of better services is the understanding, to borrow from Paul Maltby, that '[democracy] is profoundly bigger than user need'.
But, once the minister has set direction, open policy is about harnessing new ways to learn about how policies are experienced and then designing collaboratively with service users. Observatory and participatory research methods provide new ways to discover how people experience policy. Technology makes it easier than ever for policy teams to work in different places, and out of the office. Digital tools provide us with rapid feedback. Film and photos help us share insights and build empathy.
Policy makers have long tested ideas too; building evidence and legitimacy through meetings, emails, speeches, submissions and sharing policy recommendations. When evidence has been collected, policy teams carefully prepare impact assessments and consultation documents to demonstrate a policy's evidence base. Policy makers always have to ask themselves whether there are better ways to extract data and ensure fully representative samples. External bodies like the National Audit Office publicly scrutinise the basis for decisions, and some undergo judicial review.
Digital and physical tools make it easier to build prototypes of parts of a policy. A culture of early testing - particularly when using online tools like twitter and blogs - can increase legitimacy by demonstrating to the public that we are developing policy based on their feedback. See Sanjan's blog on 'Prototyping for the Private Rented Sector' for a good example of early testing.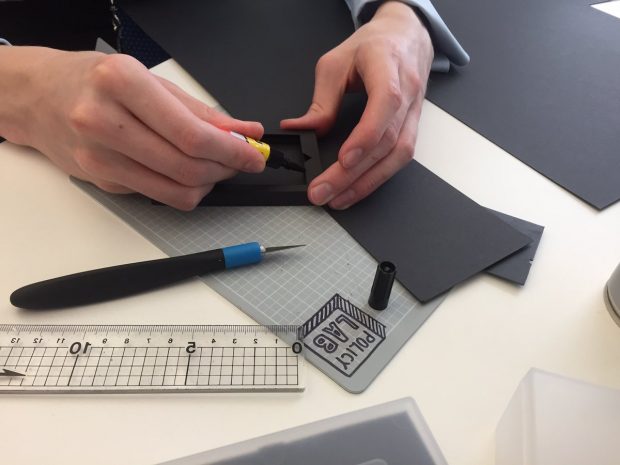 This is all quite complex
We've sought to bring some clarity to the day-to-day of policy by attempting to map the 'policy ecosystem' here in the UK. The resulting product is perhaps an indication of the complexity of our task!
These scribbles on a coffee table…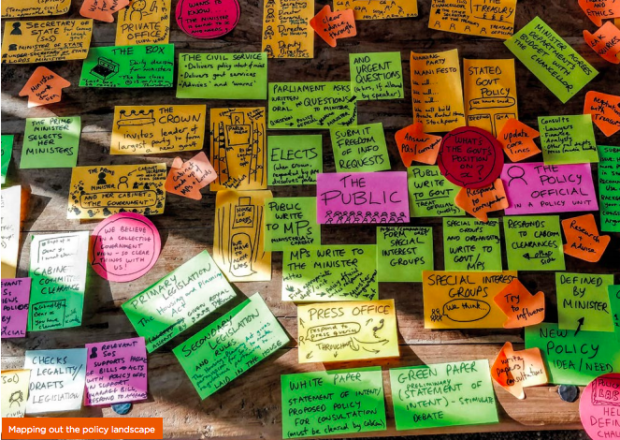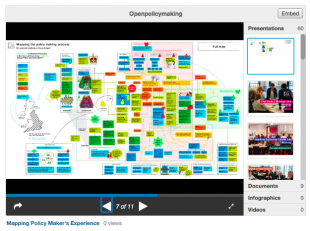 We need your help to make the map better. Please tweet @Policy Lab UK or email policylab@cabinetoffice.gov.uk with your feedback. We'd particularly love to know where you think different open policy approaches might fit across the system.
Let's learn more before we design
So we want to make it easier for policy teams to be open. If we are to do this, we should start with empathy between all those who support elected officials to develop policy.  
We have now gone out for user research, finding out what policy makers think about open policy - and how we can fit it into their lived experience. James Johnson, who leads DWP's policy exploration team, will write about our findings in the next blog...