Open justice is the principle that 'justice should not only be done, but should manifestly and undoubtedly be seen to be done'(1). It is a very well established principle within our justice system, however new digital tools and approaches are creating new opportunities and potential challenges which necessitate significant rethinking on how open justice is delivered.
In this context, HM Courts & Tribunal Service (HMCTS) wanted to consider how the principle of open justice should be delivered in the future. As well as seeking input from those who most commonly work with courtrooms, like judges, court staff and legal professionals, they also wanted to explore a range of public views. HMCTS asked us to create a methodology which could spark a wide-ranging conversation about open justice, collecting diverse and divergent perspectives.
HMCTS explained why they partnered with Policy Lab on this project:
We wanted to engage more openly and widely on our work and felt that Policy Lab would bring a different perspective and audience to help shape it. We felt Policy Lab's expertise would bring a new and innovative way of engaging with the wider public. We were also excited by the opportunity to work across government bodies and learn new ways of working.
We approached this challenge by using speculative design to explore possible and desirable futures with citizens. In this blog we will share what we did (including how you can re-use our materials and approach), what we've learned, and what we'll be experimenting with from here.
What we did
We ran 4 groups of 10 to 12 participants each. We spent the first 30 minutes discussing what participants understood and thought about Open Justice in the present. We spent the next 90 minutes using provocations to immerse them in a range of fictional futures, in which the justice system is accessed through a range of digital platforms.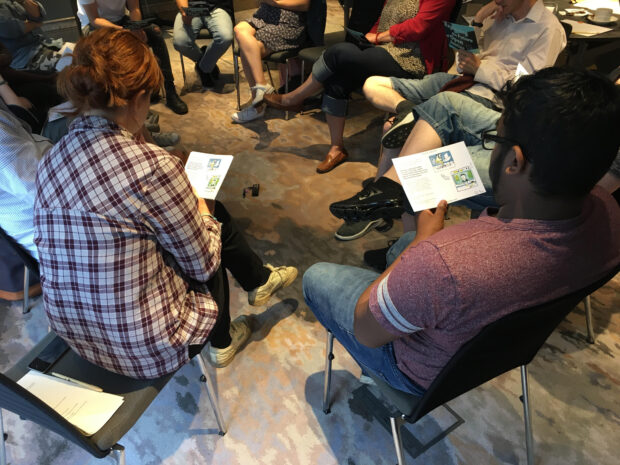 The provocations were designed to:
engage even those with no prior interest, experience or knowledge of Open Justice
be reusable
not look like 'finished' government policy - we wanted to find out more about desirable outcomes
as far as possible, provoke discussion without leading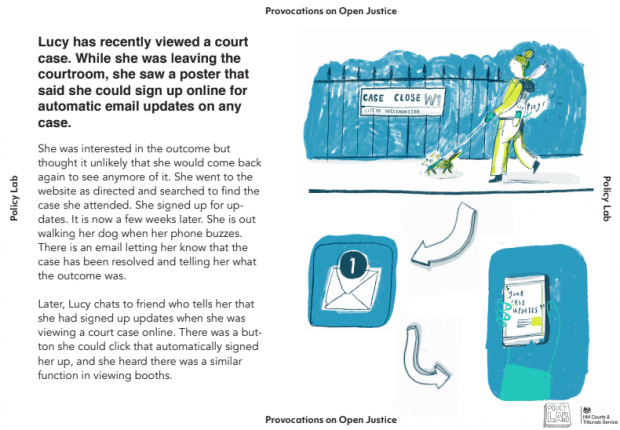 Using provocations to help participants think about the future allowed us to distill common principles which HMCTS can use when designing specific delivery mechanisms.
We hope the conversation can continue. HMCTS have published the provocations on their website. We encourage people to reuse them, or to use them to create their own.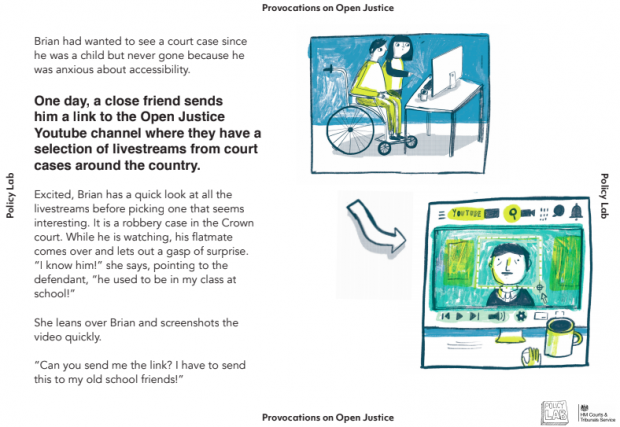 What we learned
Open Justice is a foundational principle of the justice system and fundamental to the Rule of Law. It is therefore important that its delivery also reflects the needs and principles of those who do and do not directly use it. We learned that speculative design can be a useful way to engage people, particularly on something they may not have experienced, thought about that much or even heard of before. We also demonstrated that insight is much more in-depth when the topic is made tangible.
HMCTS have also published the full findings on their website. Some of the most interesting and surprising insights included:
a strong and consistent feeling that the justice system should never be a source of entertainment, and that people should have a 'valid' reason for viewing cases or verdicts
the fact that there are barriers to accessing the justice system was often not thought to be a bad thing
a high level of trust in the justice system, with few mentions of the need for trust and transparency
a consistent concern for making good use of limited public funds, and participants questioned whether some of the fictional scenarios were worth the money they would cost
What next?
This project has grounded the ongoing work of the HMCTS policy team in the needs of the public, and introduced new methods which they would seek to reuse in future. The HMCTS Enabling Design Manager reported that:
The findings have been used to inform current Open Justice workstreams under our Reform programme. With a better understanding of the types of implications proposals may have, we have begun to explore safeguards which may mitigate some negative experiences. We will also use the work to contribute to the wider Open Justice narrative and support strategic policy development on openness. We hope to run similar workshops on other topics in the future.
This project has demonstrated the potential of speculative design and storytelling (both visual and written) to engage citizens on a policy area of which they might have little experience or even much interest in. By putting ideas into context, participants were able to think about and discuss the topic in detail and with nuance.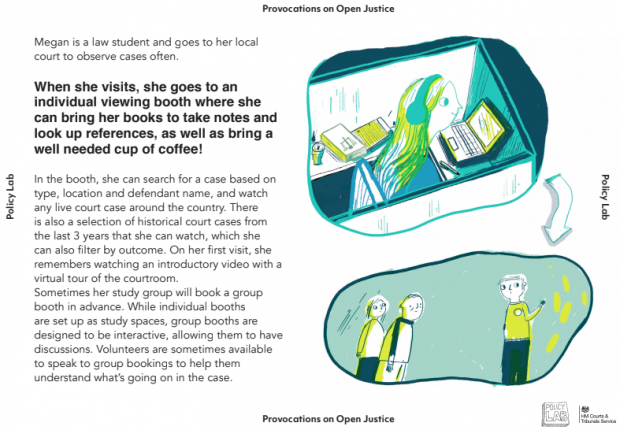 As well as Open Justice, Policy Lab has been experimenting with speculative design in policy making in a number of projects, from the Future of Ageing to Smart Shipping. Most recently we created an installation of speculative maritime flags to explore the future of autonomous vessel regulations with the sector. With each of these, speculative design has been used to provoke discussion and gain insights from citizens or industry. We're now interested to start exploring how speculative design might be used with policy makers themselves. If you are experimenting with this approach in your practice as a designer or policy maker, we'd love to hear from you.
(1) R v Sussex Justices; Ex parte McCarthy [1924]